Happy Monday to you!!! (or whatever day it may be when you read this!)
I really wanted to take my time using the
Child Training Bible
so I could give you a complete and
honest review
. I am always needing help and encouragement when it comes to discipline because more often than not I fail as a parent.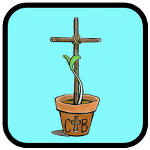 What is the "Child Training Bible"
? -
tool that allows parents and children (and anyone that loves the Word of God) to go directly to the pages of Scripture for instruction in 20 key areas with a complete section dedicated to the gospel.
The CTB was designed with Colossians 3:9-10 in mind. "You have put off the old self with its practices and have put on the new self." The Scriptures selected for the CTB teach why we are to "put off" certain behavior and what godly behavior we are to "put on" instead.
The front key of the CTB is a visual index of the areas that Scripture teaches us to "put off." These areas correspond to color-coded tabs and highlighted text. CTB Scriptures address both negative and positive responses with the emphasis on Jesus Himself, His perfect life as an example and gift to us.
To make a Child Training Bible you will use the CTB charts that include over 200 Scripture references, heart and gospel questions, and sample prayers.
I want to point out it is a "tool" :D Use it and be led by the Holy Spirit to teach and train your child with the word of God.
A few things I want to point out:
It is not a complete bible you get in the mail. There are how-to instructions, CTB note cards, and a list of supplies needed.
It takes time to put together. AND THIS IS A BLESSING! How important it is to read and study the scriptures ourselves as parents before teaching them to our children. This took me a course of a week to complete (because I am busy), but it was well worth it.
Purchase the supplies from the Child Training Website as soon as you order (or win!) your cards. I got my cards and decided I could find everything needed at Walmart. Whoops! I had to use orange tabs in place of red. See below
Don't be overhwelmed! It is very easy to put together!!
Here are some helpful tips I am learning when using the CTB:
(They encourage this in the instructions) but read the scripture(s) when your child is calm and willing to listen.
Last week I had a child who was actually covering their ears. Sad :( but true. What did the Lord show me? They should write a certain verse 3 times on a piece of paper. It went over well.
Remember to pray with your children and use the application questions. Especially when your brain is a little fried!
Pull it out as morning devotions! My kids and I had a wonderful conversation about the gospel the other day simple by reading Romans 3:23 and 6:23.
Use it in a non-discipline setting. We played a game a few times: I would read a scripture, then they would "guess" what category it was from.
Keep it up and out of the hands of your toddler. lol! Hadassah helped me highlight the front page... and pull off a few tabs. :/
Encourage older children to read their regular bible and keep reading bible stories to the younger! Again a tool to help you. We all know there are verses regarding pride, selfishness, anger, laziness, lying.. ect. It is hard to memorized them for sure!!
Keep extra tabs handy for when the Lord points out scripture during your own studying. Just mark it according to the CTB category.
I completely recommend the CTB to anyone!
It would even be a blessing to purchase as a gift.
Thank you CTB for blessing our family with this giveaway!
Giveaway instructions are below: