Thank you
Brandi
!!!! I love how you put your whole heart and effort in finding me a mug! I felt very special receiving it.
Very precious.
Very beautiful.
Perfectly hand painted mug.
And has anyone heard of these little mug mats (
Brandi
got me one too!)? They let off such a sweet aroma when enjoying your tea!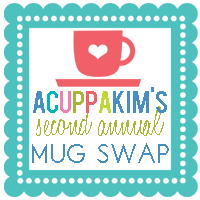 Thanks Kim for putting this swap together. Looking forward to it next year!
Seeking Him,