Why not do another one since people are curious?
Wish I had pictures for you since my last update, but due to our
Mac crashing..
no picture proof.
I am sure you trust me though!


Here are ten of my most recent efforts and tips if you're inspired to try! :)
This momsicle didn't quiet work for me.
I was able to "kind of" get it out of the mold.
Mordecai did not like cold on in his mouth.
Of course I used juice instead of milk.
This dinner is perfect for my family.
Except one child who could go without any meat.
I have made it 3 times since I pinned it!
I have not used the green beans, but exchanged it for carrots and broccoli.
Great meal. VERY EASY.
ok. wish I had pictures of this experiment.
I pretty much wasted a ton of baby oil.
I do not recommend it at all.
if you want your child to play will a crumble mess and smell good.
go for it!
as you can see my comment. i loved this crochet hat!
after i made it for my sister, I wore it for about a half an hour.
i am going to make another for myself.
did not use a pattern to make this, but the idea was simple enough.
it solved my crochet hooks from being spilled all over the floor.
I did put the flower below the closing string as a "latch". Works great!
love this idea. we actually stopped by this library on the way home last week.
little hadassah checked out a clifford board book.
I am so going to put one in our own home, when we are settled. I always have books to give away.
great little girls hat.
made one for myself out of black, but prefer seeing it on the girls.
they each have rainbow colored ones. :)
this is another one that i had pictures of! erg.
DO NOT attempt unless you use clear colored (if that makes sense) see through beads.
ones that are colored actually have a white plastic in the inside and do not melt well.
our ended up not so "pretty"
maybe someday i will find a ton of beads at goodwill and try it again.
went to Joannes to find this elastic. they didn't have any.
tried Michaels. searched FOEVER and found what is called "elastic ribbon".
they are cute, but slip out of my hair.
i also paid 5.99 for the roll of 3 yards.
it made about 12 hair ties. :/
not frugal in my book. I will stick to different on sale brands.
there ya go!
this times the count is
4- blah, no good attempts
and 5- yay right on!
I am going to keep on pinning.
Do you try things you Pin? What are the results you've found?
linking with the johnsons (as soon as it re- opens again :)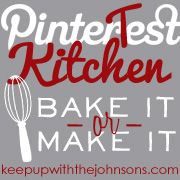 keeping life real,